The Drummer's Toolbox is a collection of essential beats and exercises that work across many styles. They help with tonal balance and independence and these grooves are just FUN to play!
One – two – you know what to do!
THE AMEN BREAK
The Amen break is a 6- to 7-second (4-bar) drum solo performed by Gregory Sylvester "G. C." Coleman in the song "Amen, Brother" performed by the 1960s funk and soul outfit The Winstons.
This is one of the most sampled and versatile grooves and works great at many tempos. This is a must for the Toolbox!

THE PURDIE SHUFFLE
This is one of the most flowing and musical sounds a drummer can make.  The sound file doesn't do it justice but it'll help with practice. No one grooves like Bernard Purdie!

TURN IT LOOSE
This is a timeless funk classic; not to be played hard but with finesse and balance around the kit. Please listen to the original recording for the right feel.
KING KONG BEAT
(Credited to Pete DePoe / D Garabaldi version)
This groove is what I refer to as a "mama groove" because so many others can come from it. Depending on how you want to play it, this can be funk, rock, latin and anything else you can think of. Thanks to Peter DePoe and for David Garabaldi's interpretation below.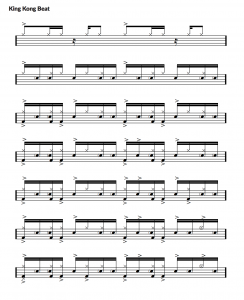 TONY WILLIAMS 5 STROKE UNISON LICK
With HH on 2+4, just repeat, repeat, repeat…..see where it takes you 🙂

GREEN EARRINGS – BERNARD PURDIE
Ferocious groove! Tempo is a little slower than you might want to play it. Check out the record.